"Soft tissue management is not only necessary for aesthetic purposes, but for biological ones too": Interview with Dr Stefan Fickl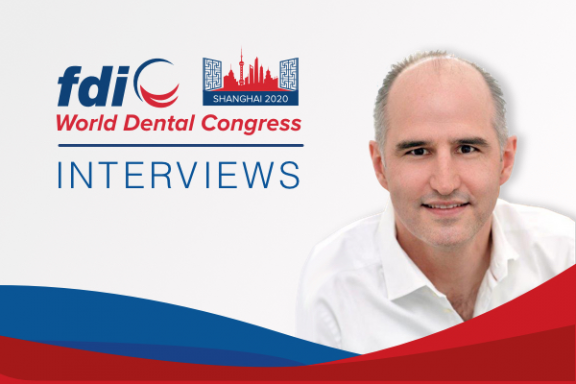 During his first lecture at the FDI World Dental Congress in Shanghai, Dr Fickl will present different techniques for soft tissue manipulation around dental implants. Most of the techniques used around dental implants have been adopted from plastic periodontal surgery. Subepithelial connective tissue grafts are used to improve tissue volume around implants and free gingival grafts are used to improve the attached mucosa around implants. Recently, xenograft replacement materials have been developed and are also used in certain indications. Dr Fickl's second lecture will focus on surgical techniques and materials for soft tissue regeneration. Autologous grafts are used the most, but regenerative materials (such as enamel matrix derivate and collagen matrices) are also used today to achieve aesthetic soft tissue regeneration.
---
Your first lecture in Shanghai will discuss soft tissue management of implants in the aesthetic zone. Why has soft tissue gained an increased interest in the field of implantology?
I think researchers and clinicians have seen that the soft tissue mantle around implants seems to be important when it comes to peri-implant diseases, or also biological complications. One aspect of my talk is on how to improve the soft tissue conditions around dental implants in order to decrease the number of complications or pathologies we see, and the second aspect is aesthetics. It's always difficult to get an implant aesthetically integrated into the dentition, so soft tissue can help us a lot to improve the soft tissue curvature and the soft tissue architecture. This is what I'll be delving into further during my talk.
What are some of the challenges of soft tissue manipulation around dental implants?
As soft tissue management always implies that you're working with one of three grafts (either harvested from the palate, xenografts, or matrices), you have to think about nutrition. It's very important that the sites where you bring in the soft tissue have sufficient nutrition, so you don't get necrosis of the graft. You must take utmost care of the recipient site to ensure enough blood supply is there. 
In your second lecture, you'll discuss soft tissue regeneration around teeth. How can soft tissue be regenerated today?
It's pretty much the same mechanism that we do around dental implants. We transplant tissue from the palate, or we use matrices from a foreign origin. The body then uses these matrices as a scaffold to stabilize the blood clot and then the patient's own tissue regenerates or grows into these scaffolds, increasing the quality and volume of the soft tissue.
Grafts vs regenerative materials: is one better than the other in your opinion?
Good question. Of course (but this is pretty much the same in all surgical fields) the autologous tissue is definitely still the best that we can offer the patient. However, it has to be harvested from somewhere. So that often means more pain for the patient, a longer surgery time, and there could also be more complications at the donor site where you harvested the tissue. So, of course, the gold standard is still the autologous tissue; however, in specific indications, when perhaps the challenge for the tissue is not that big, or the challenge for the wound healing is not so significant, we sometimes use xenografts and regenerative materials. But it really depends on the indication. In a nutshell, the more difficult the case is, the more we still rely on autologous tissue. 
What is the main message you'd like to convey to your audience in Shanghai?
I think a very important message would be that soft tissue management is necessary and important not only for aesthetic purposes, but for biological ones too. I mean, some people question if soft tissue management is necessary, as they believe it only has an aesthetic value. Today we know increasing the soft tissue also has a biological value. If we increase the soft tissue, we also protect the underlying bone. 
This interview has been edited for length and clarity.
Find out more...
The World Dental Congress (WDC) is a flagship event for FDI, strengthening ties and fostering collaboration within the global oral health community.