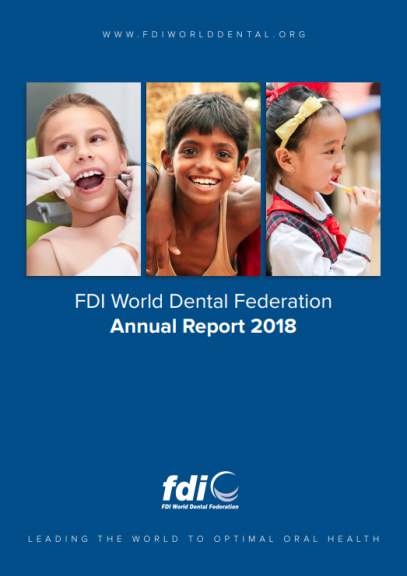 Annual Report 2018
Published: May 2019
In 2018, FDI grew its reputation as a leading global oral health advocate.
We've been able to work harder and smarter to achieve our goals and fulfil our vision of leading the world to optimal oral health.
In line with FDI's 2018–2021 Strategic Plan, we've reinforced our membership base, led global advocacy efforts to increase oral health literacy and achieve political commitment and action on oral health in all countries, and furthered the science and practice of dentistry through knowledge-sharing and collaboration.
While it's important to recognize our successes, we must remember to stay focused: oral diseases are still the most prevalent noncommunicable diseases worldwide. Now more than ever, we must work together with our members and industry partners to lead the global fight to improve the oral health of populations and ensure the general health and well-being of all.
Thank you for your united action in support of our vision.
Read the 2018 Annual Report for full details on FDI's annual events, oral health projects, advocacy agenda, scientific journal, membership details, financial statements, and an updated list of our partners.
Downloads