International Dental Journal
08/25/2022
New supplement on ageing highlights what needs to be done to protect oral function and improve access to care
Open access: read and share the International Dental Journal Supplement on Oral Health for an Ageing Population.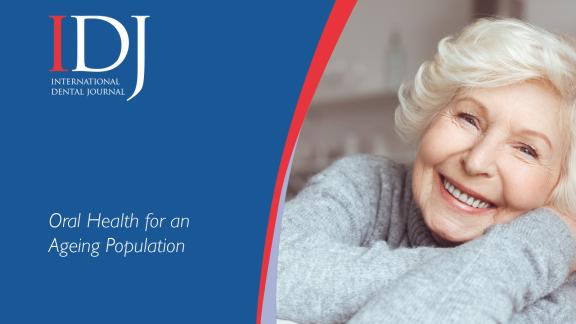 Globally, the older population has been growing exponentially. It is predicted that by 2050, 25% of the world's population – around 2 billion people – will be aged over 60 years. Unfortunately, older persons can particularly be affected by poor oral health and may be more prone to developing dental diseases such as caries, periodontitis, dry mouth or even tooth loss, affecting their overall quality of life and general health.
"The rising number of older people with teeth increases their oral health care needs.

To improve access to oral care, affordability of care is a great concern with respect to universal health coverage. In addition, accessibility is a crucial issue, particularly for vulnerable older adults."
The importance of good oral health for healthy ageing
The new International Dental Journal (IDJ) supplement on Oral Health for an Ageing Population explores the impact of oral diseases throughout the life course, and specifically in older persons. By understanding the risks associated with ageing, it explores the measures and preventive actions that must be taken to protect oral health and live an overall healthy life. Taking care of the mouth means taking care of many aspects of life including the ability to eat, smile, speak, smell, taste, and convey a large range of emotions through facial expressions with confidence and without pain throughout your life. No matter what your age, everyone should be able to enjoy the multiple facets of oral health.
With this IDJ supplement discover how oral healthcare for older populations can be improved by supporting the integration of oral health in general health policies and universal health coverage, so that everyone can have the chance of staying healthy into old age. After all, a healthy mouth is vital to general health and a good quality of life.
Discover the IDJ supplement
About Oral Health for an Ageing Population
The Oral Health for an Ageing Population (OHAP) project was launched in 2015 to strengthen the role of the oral health community in achieving healthy longevity. The project pushes for oral health challenges to be addressed in broader disease policies and health promotion strategies for ageing populations. OHAP aims to ensure that people not only live longer lives but healthier ones too, free of oral diseases, to secure their overall health and well-being.
The Oral Health for an Ageing Population project is supported by GC International and the Nakao Foundation