International Dental Journal
07/29/2022
IDJ launches a new subsection: Succinct Rapid Communication
Learn more about this new article type that is particularly relevant to postgraduate researchers with rapid publication deadlines.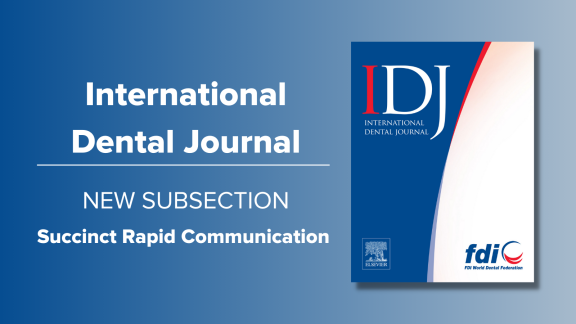 The International Dental Journal (IDJ) is FDI's flagship scientific journal. The articles have historically focused on practice-related research, international public health, and interprofessional education and practice. Earlier this year, upon taking up the mantle of IDJ Editor-in-Chief, Prof. Lakshman Samaranayake added a new subsection on science and technology in dentistry, and in efforts to continue to increase the scope of the journal, he has added another new subsection entitled Succinct Rapid Communication (SRC).
 
What are the submission criteria for the new article type?
The SRC articles will include fully developed primary research that is considerably shorter than a standard research article published in other sections of IDJ. It must contain original research findings or analyses, and meet the benchmarks expected of all papers published in the journal. The manuscripts will follow a streamlined schedule and will benefit from prioritized peer-review and rapid online publication.
This pathway is particularly suitable for postgraduate researchers with rapid publication deadlines necessitated by time-constrained, graduation requirements. In addition, the editorial board will consider publication of rare and noteworthy Case Reports in this category.
The SRC will have a maximum of 2,500 words, excluding the abstract, and is comprised of the following sections:
an abstract of not more than 200 words

introduction

methods

results

discussion and references

(

maximum 15

)

.
Due to the need for brevity the results and discussion sections may be merged as a single entity. The SRC should also include a maximum of two tables or figures.
The Article Publishing Charge (APC) for this article type is US$1,300.
 
Want to submit an article?
Read the Guide for Authors and submit today.