Discover and use the World Oral Health Day 2023 campaign resources
No matter your age – everyone should value and take care of their oral health. Get involved with WOHD23 to Be Proud of Your Mouth for a lifetime of smiles.
World Oral Health Day (WOHD) 2023 is only a month away. It is now into the final year of the three-year Be Proud of Your Mouth campaign, which sends out the message to people all over the world to value and take care of their mouths. After all, no matter your age, caring for your mouth and looking after your oral health is vital for good health and quality of life. That is why this year, we are calling on you and your loved ones to Be Proud of Your Mouth for a lifetime of smiles.
It's time to get involved. Share your WOHD 2023 plans
Whether you will organize an oral hygiene webinar, a social media campaign, carry out dental check-ups, use the frames or organize educational activities in schools, it's time to share your activity and get mapped. Tell us and others what you are planning to do and then, please feedback on how it went. Outstanding efforts will be recognized through the World Oral Health Day Awards.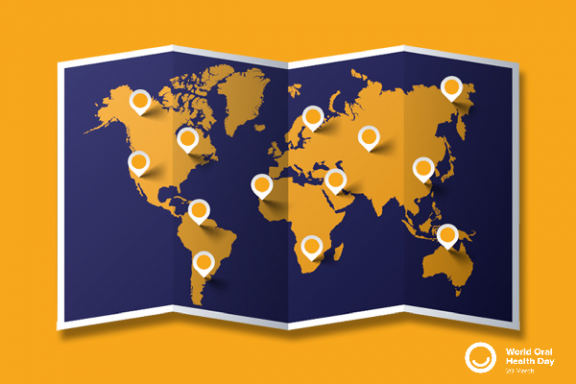 Additionally, you can create your own personalized posters or social media cards quickly and easily and show your support for the campaign by using the online #MouthProud custom polaroid tool and encourage others to do the same. Come together with your family or friends and take & upload a shot that draws attention to the mouth: smiling/laughing, framing the mouth, fingers pointing to a smile, blowing a kiss, interact with one another to further bring in the fun of a photo booth.
Discover the new WOHD23 campaign resources!
Celebrate WOHD with us by using a range of ready-made resources including fact sheets, key message cards, custom posters, action toolkits and many more to raise awareness of the importance of taking care of your oral health at all stages of life.
Get involved with WOHD on 20 March with our action toolkits. There is a toolkit to suit everybody with tailor-made ideas to inspire participation in WOHD. Everyone's actions, big and small, will help to keep us moving towards our collective goal: better oral health for all.
Fact Sheets
Most oral health conditions are largely preventable and can be treated in their early stages. Learn and share the facts about how to maintain a healthy smile throughout life. We developed 10 fact sheets with key oral health messages that explain why the issue is important and how it can be addressed:
Practice a good oral hygiene;

Start good oral health habits early;

Learn good oral health habits from Toothie (for children);

Take charge of your oral health;

Eat a balanced, low-sugar diet;

Visit the dentist regularly;

Look after oral health for overall health;

Look after oral health for happiness and well-being;

Look after your oral health for a lifetime of smiles;

Look after your oral health for a lifetime of smiles (summary).
Fact sheets are also available in French and Spanish.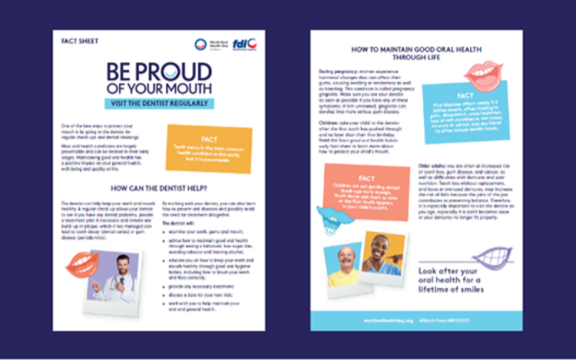 Key message cards
The key message cards make good event handouts. Use them to communicate all the main points in a bite-size way. Key message cards are available in French and Spanish as well.
Customizable event posters and invites
Once you have planned your WOHD activities and events, use the customizable event posters and invites to tell everyone what you are doing and to encourage them to get involved. As well as publicizing your activities, you could use the posters as signage on the day.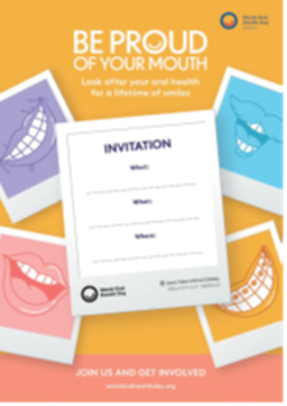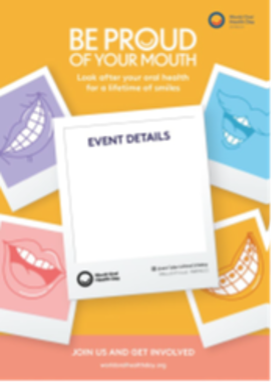 Fun Frames
Discover the children's colouring sheets to help them establish good oral health habits from a young age and to engage them in creative ways to make oral care fun. You can also make your own campaign frames to celebrate WOHD and raise awareness of why it is important to Be Proud of Your Mouth.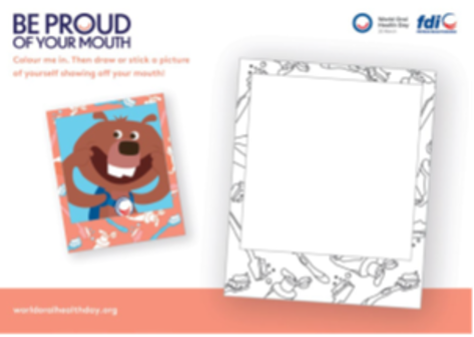 Digital and Social Media
View and share the campaign video where a group of people describe what their mouth means to them. Inspire others to look after their oral health by showing it to them too!
One of the easiest ways to promote WOHD on social media is through your cover photos, which occupy a huge amount of valuable space. Update yours with the campaign covers in the build-up to WOHD. You can also use an assortment of content to engage your social networks, from facts and figures around oral health, to posts about how and why you need to look after it. Use them to engage in conversations, and turn those conversations into action.
Another fun way to engage with WOHD on social media is to use our fun and shareable filters in a selfie moment. Visit the WOHD Instagram page and click the filter icon (three stars) to find and use it. It's available on our Facebook page too.