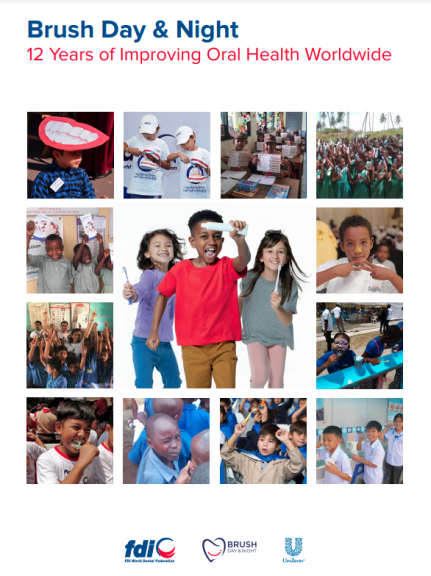 Brush Day & Night: 12 years of improving oral health worldwide
Published: November 2018
The Brush Day & Night project advocates twice-daily toothbrushing with a fluoride toothpaste as one of the most important habits for good oral health and general health. For 12 years, the project has been teaching children about the benefits of good oral hygiene and how to brush their teeth, encouraging them to become community advocates and spread the message of good oral health to their families and friends.
The brochure condenses the content of the scientific article published in the International Dental Journal (IDJ), targeting a wider audience. It reports on key facts of Phase III and highlights Phase IV, which runs until December 2019.
The brochure includes executive summary of the IDJ supplement and an infographic, illustrating key facts about the methodology of the programme and the positive results of Phase III, which ran from 2014 to 2016, reaching over 4 million children and parents through 21-day oral health education programmes in schools.
The brochure offers a snapshot of a successful FDI and industry partner collaboration to improve oral health outcomes. It may be used as supporting material for FDI National Dental Associations and dentists alike to promote future educational programmes and wider oral health improvement programmes in their respective country contexts.
References: 
GBD. Disease and Injury Incidence and Prevalence Collaborators. Global, regional, and national incidence, prevalence, and years lived with disability for 328 diseases and injuries for 195 countries, 1990-2016: a systematic analysis for the Global Burden of Disease Study 2016. Lancet 2017;390(10100):1211–1259.
World Health Organization (WHO). Oral Health Fact Sheet. 2018. Accessed October 2018.
FDI World Dental Federation (2017). Promoting Oral Health Through Fluoride. Accessed October 2018.
Kell K, Aymerich M-A and Horn V. FDI–Unilever Brush Day & Night partnership: 12 years of improving behaviour for better oral health. Int Dent J 2018;68(S1):3–6.
Melo P, Fine C, Malone S, Frencken JE and Horn V. The effectiveness of the Brush Day and Night programme in improving children's toothbrushing knowledge and behaviour. Int Dent J 2018;68(S1):7–16.
Melo P, Fine C, Malone S, and Horn V. Brush Day & Night Phase III to Phase IV: ensuring that good oral health habits are sustainable. Int Dent J 2018;68(S1):17–19.
Downloads