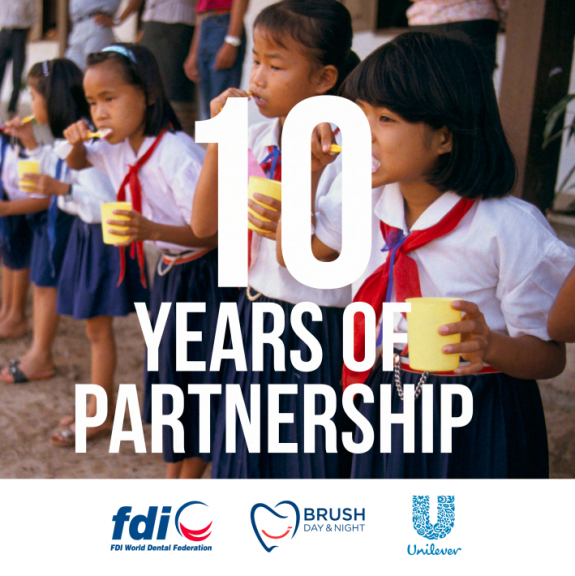 Brush Day & Night: 10 years of partnership
Published: April 2018
FDI World Dental Federation and Unilever Oral Care are proud to acknowledge a successful 10-year partnership to measurably improve oral health on a global scale. During that time, we are delighted to have seen it grow and have such positive effects on the lives of the children, families and communities where our educational projects have been implemented.
A healthy smile is a smile without any dental or oral diseases. However, Dental Caries is still the most widespread chronic disease worldwide. A little more than 10 years ago, FDI World Dental Federation and Unilever Oral Care came together in partnership to address this issue and to help people live fuller lives through educating them on the importance of brushing twice-daily with a fluoride toothpaste. Studies show that brushing day and night with a fluoride toothpaste can cut tooth decay up to 50% for children compared with brushing once.
In this special edition, we are taking a look at the key milestones and results over the years of the partnership, and importantly, looking ahead at what is to come in a continuation of the partnership's aims – that of campaigning for improved oral health.
Downloads