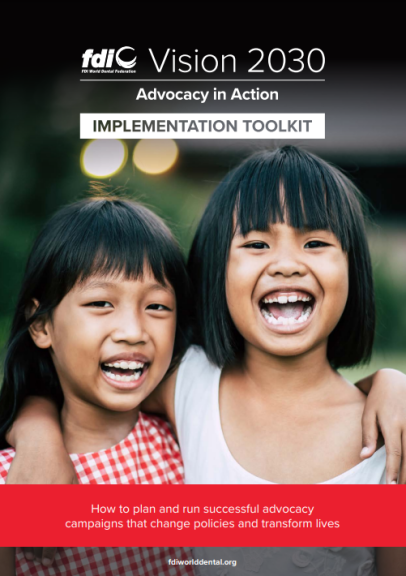 Advocacy in Action : Vision 2030 - Implementation Toolkit
There have been momentous developments in the global oral health landscape since 2021. FDI, with the support of its members and strategic partners, has succeeded in helping to place oral health at the heart of the global health and development agenda. Global advocacy efforts have led to the biggest shifts in oral healthcare to date, and there is a united commitment and determination to increase access to affordable and timely oral healthcare for populations everywhere like never before.
This 'how-to-toolkit' highlights strategies that can be implemented to leverage all the significant developments in the global oral health policy landscape. It provides tools and resources to support national advocacy efforts and aims to help inform discussions with governments and policymakers so that oral health challenges are turned into opportunities and solutions, leading to improved oral health.
Read the toolkit to see how on-the-ground advocacy can – and needs to – capitalize on this to ensure change takes place in your country.
Downloads